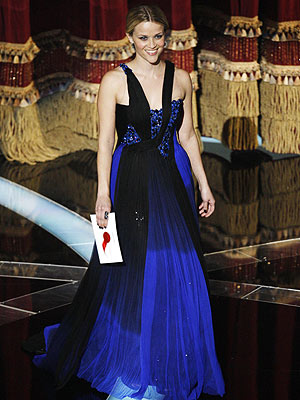 Wedding Gowns With Academy Award Style
The premier fashion event in America each year is the red carpet at the Academy Awards. For fashion lovers, there is no better eye candy than watching the stars make their grand entrance to the Oscars in the latest couture gowns. This can be a great place to get some ideas for your own high-fashion event: your wedding. These are some suggestions on how to choose a wedding gown with Academy Award inspired style.
Each year there are some wide reaching trends at the Academy Awards, and this year the top fashion trend is asymmetry. Almost every one of the fabulous couture gowns gliding gown the Red Carpet had one shoulder, an asymmetrical strapless neckline, or a cascade of ruffles or draping down one side of the skirt. Very few of the top celebrity looks were completely symmetrical, and those that were came across as unimaginative.
Happily, there is now great cross-over between bridal and couture designers (in fact, some designers like Vera Wang and Monique Lhuillier do both), so there are many stunning asymmetrical bridal gowns available. Choose a dramatic one shoulder wedding dress for a chic couture look. Or opt for a strapless gown with a fitted bodice flowing into ruffles down one side. Play up the drama of the look with striking crystal bridal jewelry sets and fabulous shoes.
Draping was another huge theme in the celebrity fashions at the Oscars. Very few of the gowns had smooth bodices; most were draped, twisted, or pleated in some way, often with draping that flowed down into the skirt. Brides can find some gorgeous gowns which emulate this style. A soft chiffon with gentle draping and pleating can be used to create a Grecian goddess wedding gown. For a more structured style, a tissue taffeta is fantastic when ruched across the bodice. Look for fabric which has been gathered diagonally for a waist slimming effect. An especially fabulous style is a mermaid bridal gown with a draped bodice which remains fitted through the hips and then explodes into a pouf of fabric just above the knees.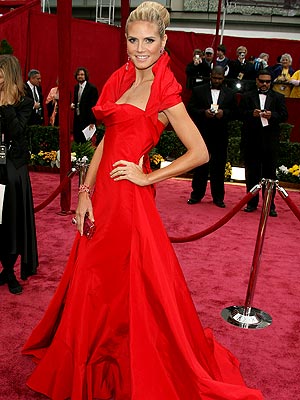 Beading and metallic accents were another top look on the red carpet. This is a very easy concept for brides to borrow for their attire. The celebrity couture gowns were not beaded in traditional patterns, but rather to create an all-over shimmer effect of scattered crystals. Use this idea as your inspiration for a wedding gown without a defined break between the bodice and skirt; a column or princess seam dress is ideal for embellishing with a scattered crystal design. The best look is to have heavier beading near the top of the gown, graduating into lightly tossed crystals near the hem. Naturally crystal bridal jewelry sets are the perfect accessories for this all-out glamor style.
Your wedding is your one chance to make a grand entrance like a movie star. Why not play it up with a red carpet-worthy bridal gown which is inspired by the glamor and fashion of the Academy Awards. Best of all, at the end of the day, you get to take home the top prize of all: your new husband, which is way better than a gold statue of a man.
Article Source: By Laura Firenze